Glory's hope sickle Cell Foundation
WHERE HOPE BREAKS THE SICKLE CYCLE
WHAT IS SICKLE CELL?
Sickle cell is a blood cell (red), shaped like a sickle. Normal blood cells are round.
​
Sickle cell disease, is a disease that affects the hemoglobin. The hemoglobin is a protein in the red blood cell that carries oxygen throughout the body. In SCD, hemoglobin that is defective causes the red blood cells to become inflexible instead of flexible therefore forming sickle shaped cells which stick to vessel walls, causing a blockage that slows or stops the flow of blood. When this happens, oxygen can't reach nearby tissues.
The lack of oxygen causes sudden attacks of severe pain, called a pain crises. These attacks occur often times without warning. An individual going through a pain crises often ends up in the hospital for effective treatmeant. Hospitalizations usually last for 3 - 6 days. Hospital treatment includes the administration of IV fluids, Oxygen, Pain Killers and most times in adults blood transfusions.
​
SCD is an inherited disease therefore it is not contagious. It is passed on from parents carrying the sickle cell gene/trait to the children. Since SCD is inherited, the disease is present at birth.
Sickle Cell Disease is a painful disease and those suffering from this painful disease are not just fighting daily to survive but also struggle daily to live normal lives. We call them our Sickle Cell Troopers.
Glory's Hope Foundation is here to shed light on this painful disease and support our troopers in the fight against Sickle Cell. We will fight until the battle is won against SCD.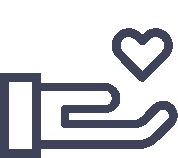 "Whoever is generous to the poor lends to the Lord, and he will repay him for his deed."